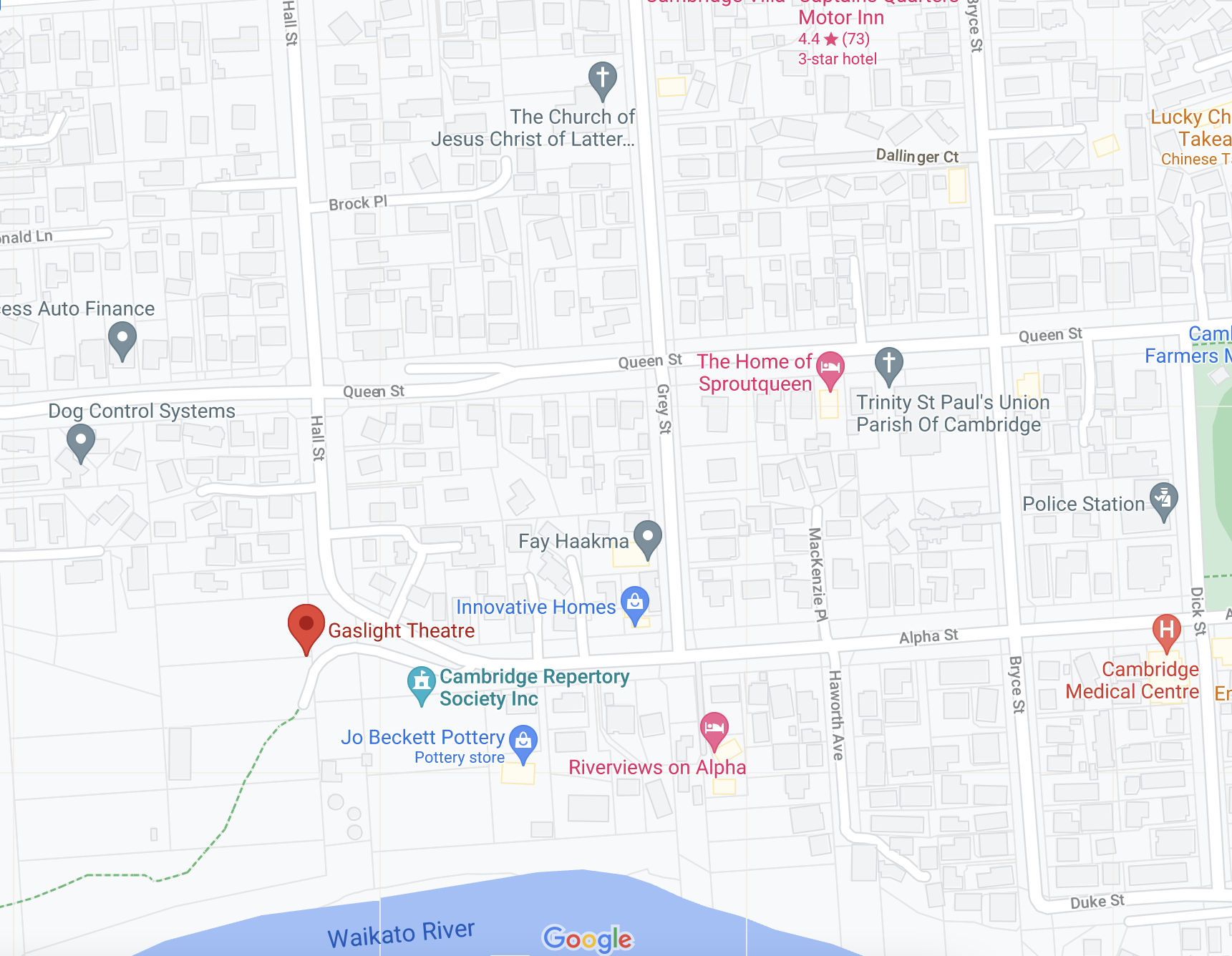 Gaslight Theatre
Address:
8 Alpha Street, Cambridge
Phone:
07 827 3145 (limited hours)
GENERAL EMAIL:
mail@cambridgerepertory.org.nz
TICKETING EMAIL:
theatre@gaslight.nz
Our Story
Formed in 1960, we are a small, dynamic and enthusiastic amateur dramatic society based in the small town of Cambridge, New Zealand in the Waikato. We produce three to four shows per year, including 1-act, comedy, drama, thriller and musical productions.
Our theatre is located in an old gasworks building (now over 100 years old) and the complex includes foyer, kitchen, bathrooms, workshop, small bar (wine, beer and soft drinks), the auditorium and stage, dressing rooms, green room and, upstairs, an office, wardrobe and property areas and a separate rehearsal space.
The auditorium holds 50 (seated in the usual layout around tables) or 80 (seated in rows for other events). Seasons are typically two weeks in length.
Current committee
Our committee comprises of passionate locals who bring a wealth of skills and enthusiasm to the Gaslight Theatre. We are committed to hosting entertaining shows and providing a place for theatre lovers to connect and have fun!
Vice-President
Karen Carroll
Committee Members
Tracey Barlow
Andrea Goodman
Kim Burn
Mark Stoddard
Jenni Nelson
Nicole Nelson
Gaslight Theatre
Experience EXCELLENT Local Theatre
about Us
The Gaslight Theatre is home to the Cambridge Repertory Society, Cambridge NZ. We put on 3 to 4 shows a year, working with local directors, actors, sound & lighting technicians and back-stage enthusiasts.